We Asked ChatGPT to Write Resumes and Cover Letters. Here's What It Got Right (and Wrong) was originally published on uConnect External Content.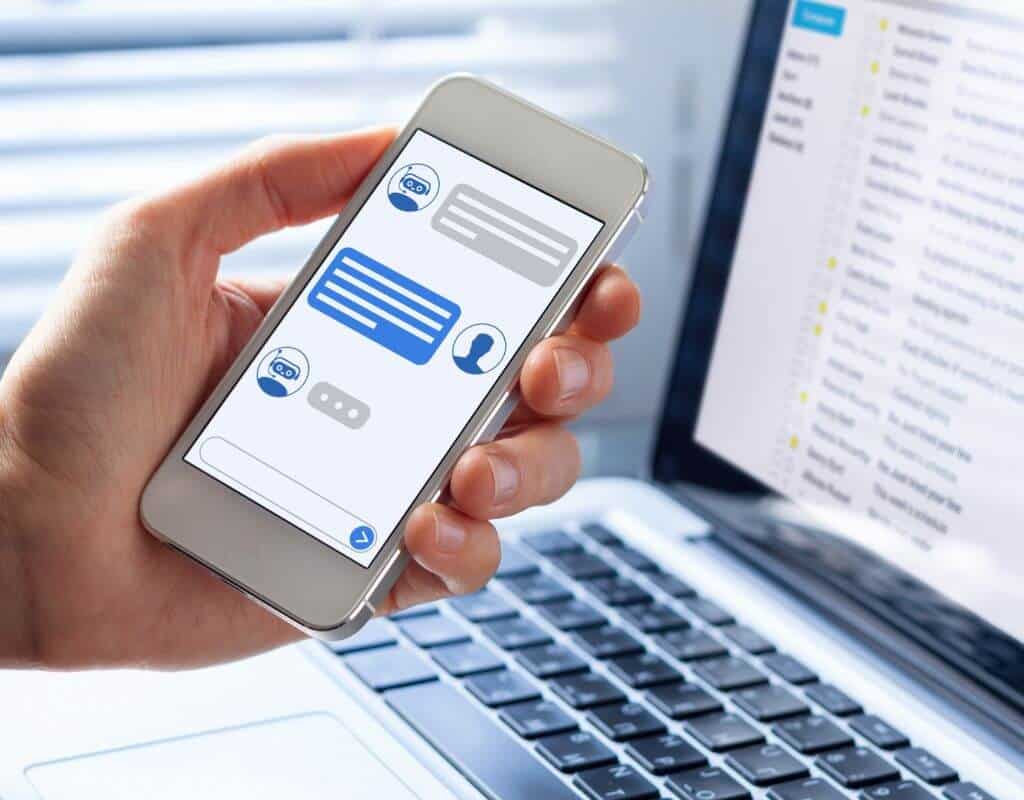 You've probably heard the buzz about ChatGPT and all the wild conversations and creations it's producing. While it's a fun diversion in the middle of an otherwise dull day, are there any practical applications for ChatGPT — like having it write your cover letter and resume?
We wanted to know what AI-generated cover letters and resumes would look like. While they were well-written, what ChatGPT generates for you is likely not enough to help you land a job interview.
What Is This ChatGPT Everyone Is Talking About?
The chatbot making a splash (and headlines) is ChatGPT, and it's poised to be a massive step forward in artificial intelligence (AI).
It uses natural language processing, making it easier to ask questions and receive relatively life-like responses. For example, you can ask ChatGPT, "Why do you think the sky is blue?" and it will attempt to reasonably answer your question as a friend might. This is different from other chatbots or search engines, where you might have to phrase the question "just so" to get an answer.
In addition to asking ChatGPT questions, you can also ask it to perform writing tasks for you. And what ChatGPT has produced is, well, stunning.
Some examples:
What's more, you can ask ChatGPT to redo and potentially improve the answer by asking it to "try again" using the same inputs.
Our ChatGPT Experiment: Resumes and Cover Letters
Because ChatGPT is incredibly sophisticated, we wondered if it could be leveraged to save time during a job search. What would it produce if we asked it to write a few resumes and cover letters for us?
AI-Generated Resume Examples
We started with some resumes.
The deckhand on a pirate ship: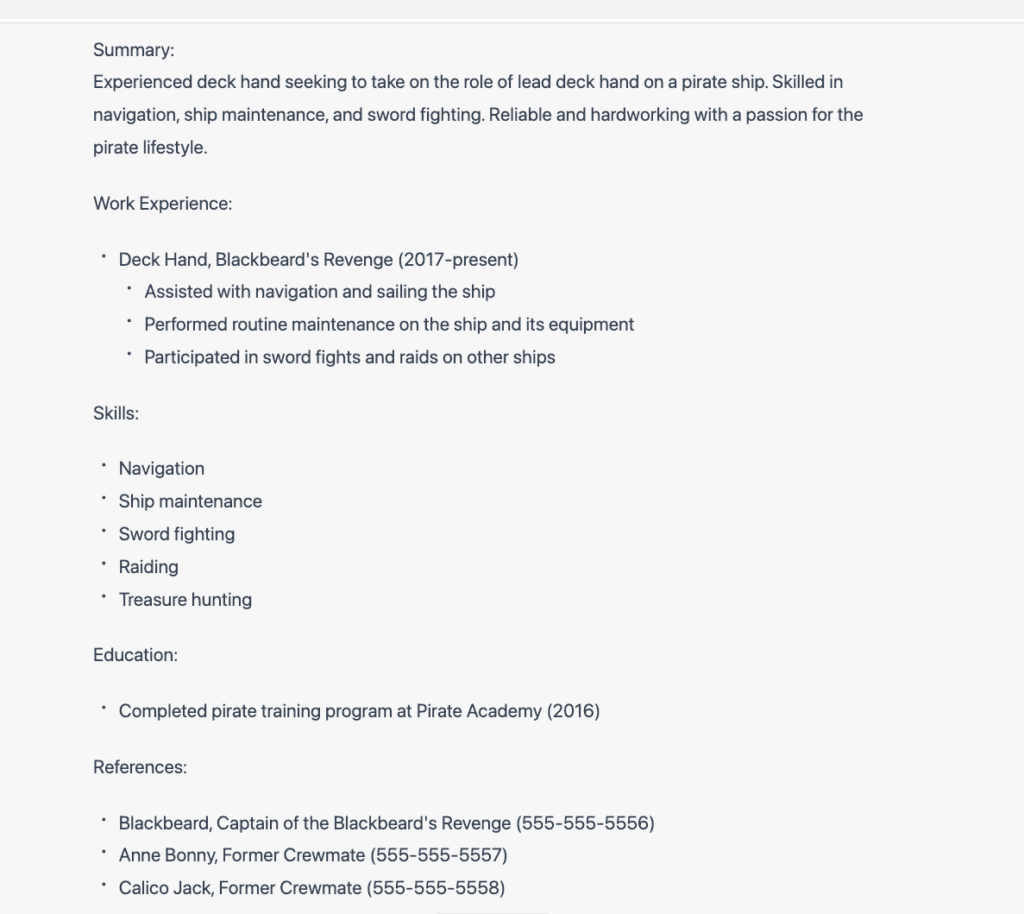 An entry-level software programmer: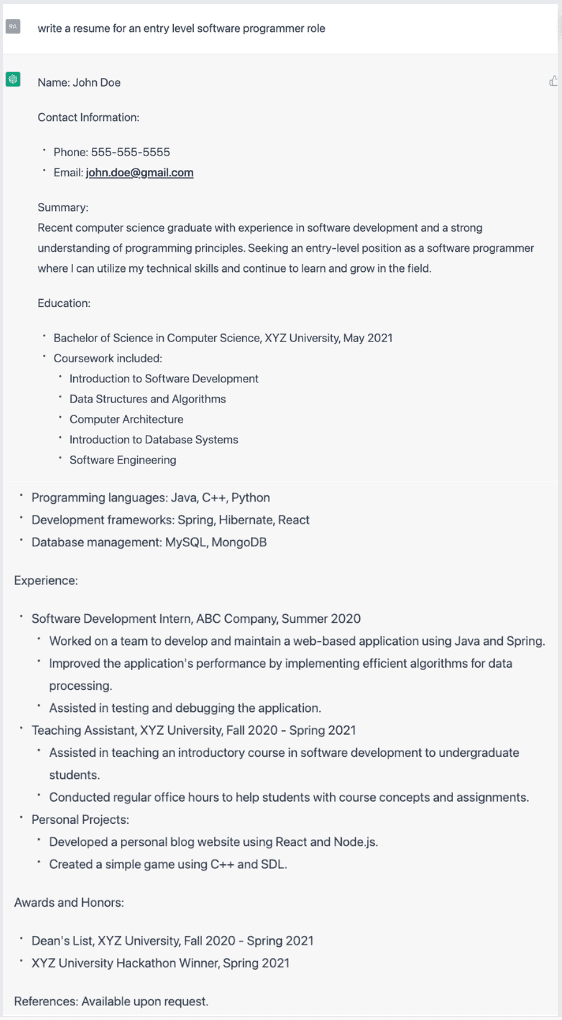 Entry-level financial analyst: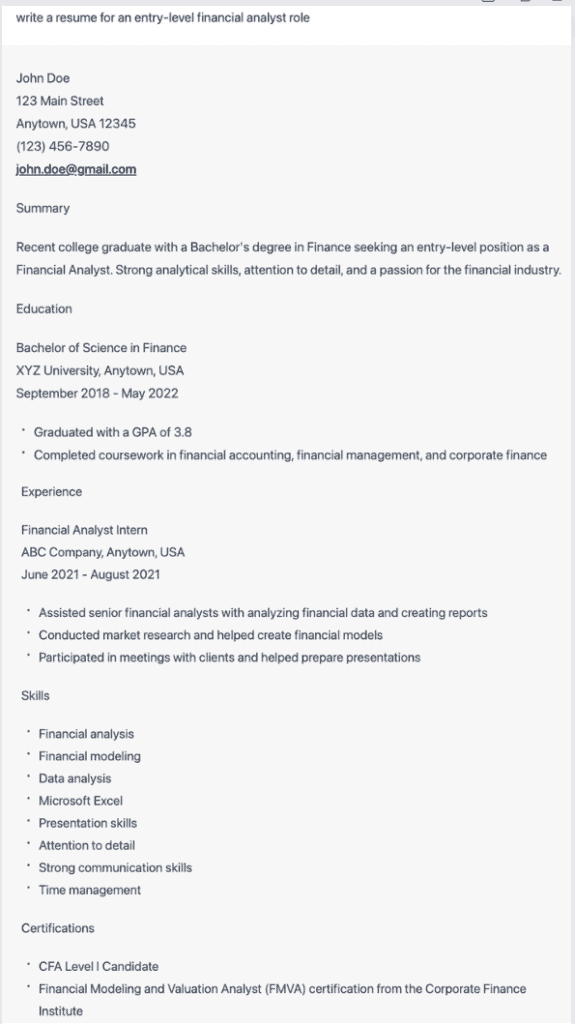 What's interesting about these AI-generated resumes is that they are relatively unique to the prompt. For example, only one entry-level resume includes a GPA.
>>MORE: How to Write a Resume
However, these resumes also include things that are no longer necessary. For example, they have a street address, and the lead deckhand resume includes a references section.
AI-Generated Cover Letter Examples
We gave ChatGPT multiple cover letter prompts to test its abilities. These are some of the best examples:
An entry-level investment banking job: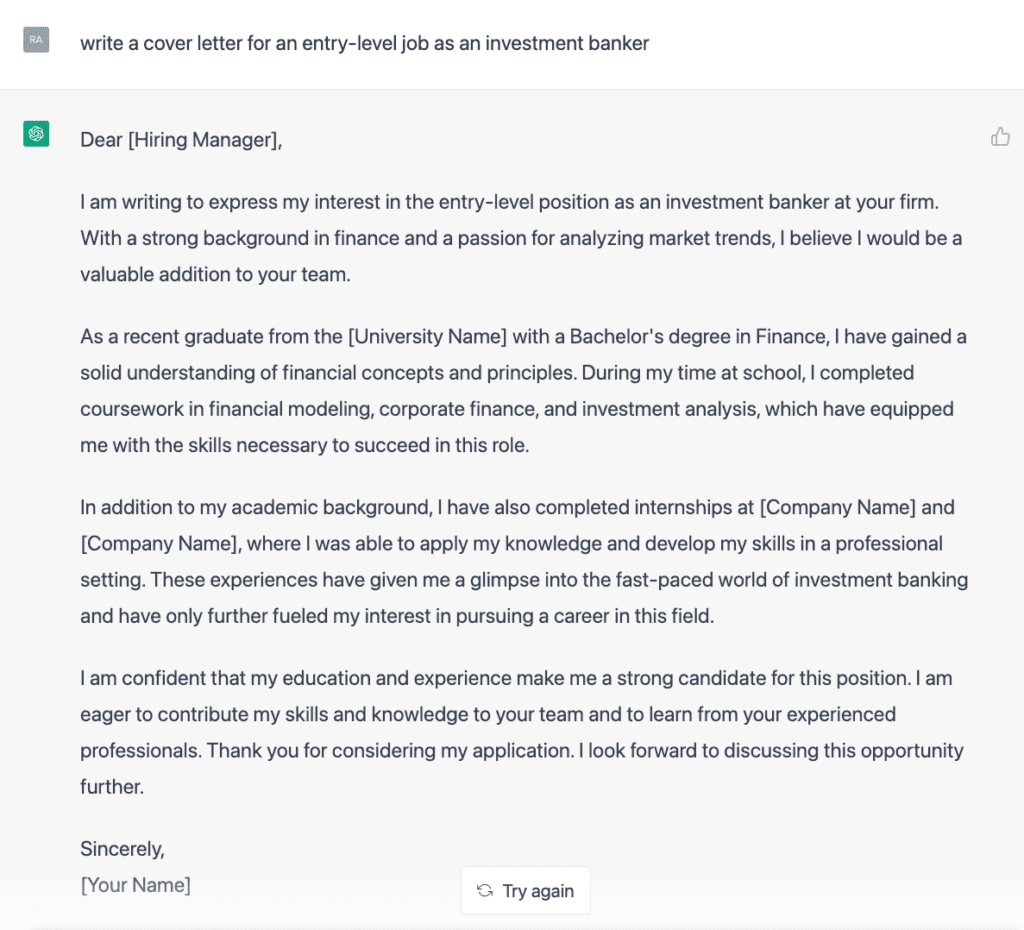 An accounting internship: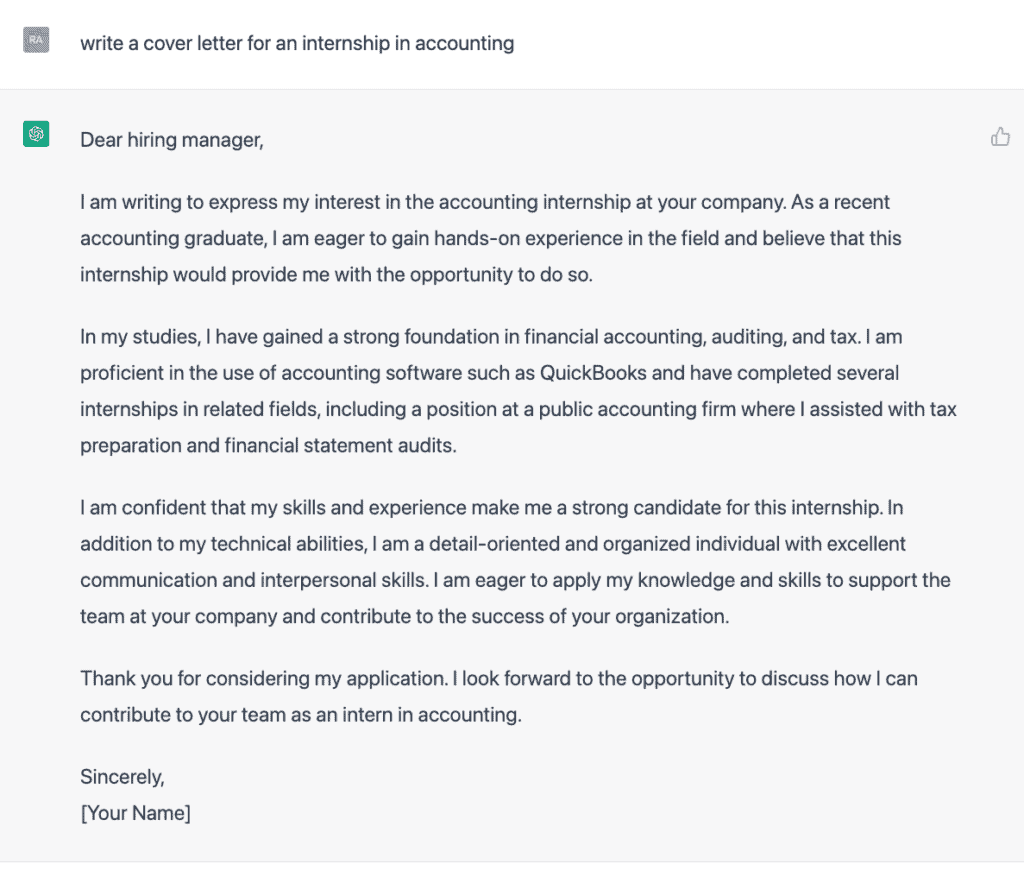 When you have no work experience:
Lead deckhand on a pirate ship: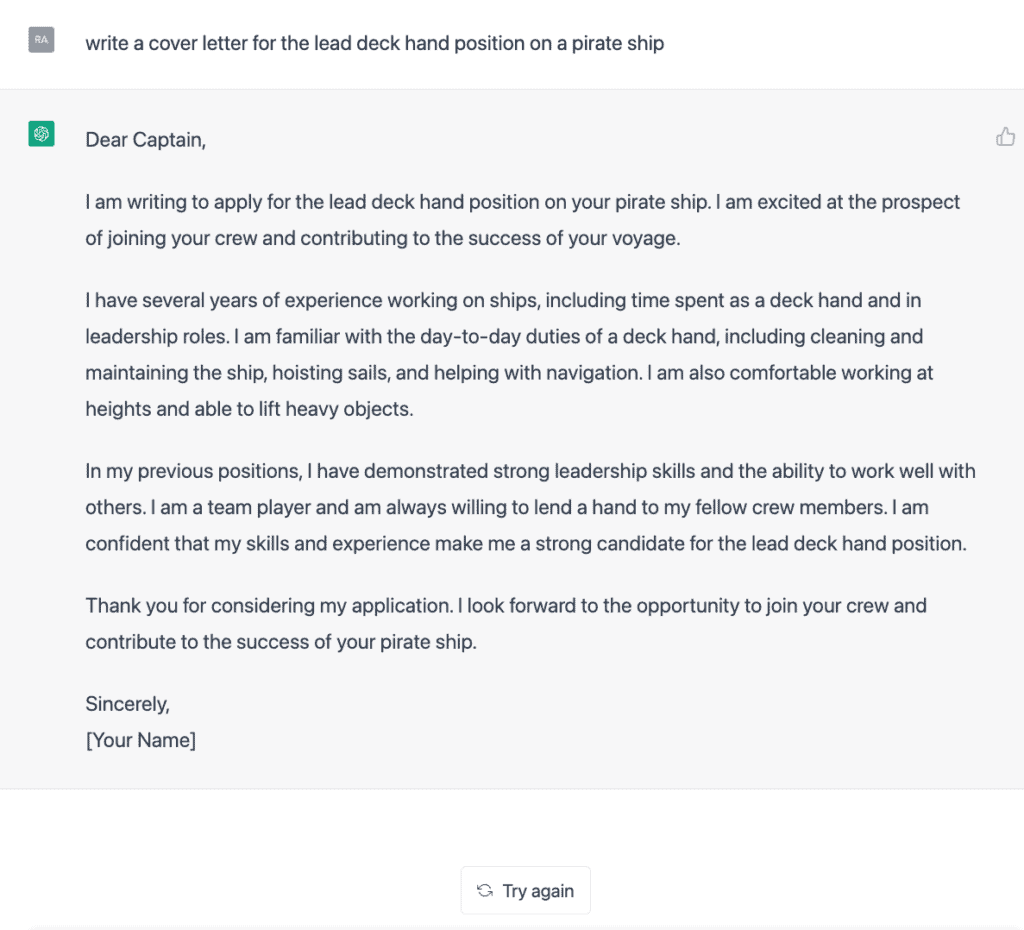 It's fair to say that these are well-written cover letters. They follow general cover letter conventions, are polite, and explain why the writer is applying to the role. It also mentions a few skills that might be necessary for success in the role, despite us not mentioning any skills as part of the prompt.
What ChatGPT Got Wrong
While the resumes and cover letters ChatGPT generated aren't half bad, they are exactly the kind of resumes and cover letters you would not want to submit as your application.
Why?
Let's look at the lead deckhand cover letter, specifically the two middle paragraphs.
The second paragraph talks about the writer's "several years of experience including time spent as a deckhand in leadership roles." The third paragraph also mentions, "I have demonstrated strong leadership skills."
While the writer should mention their leadership skills, especially because moving to lead deckhand is probably a step up the career ladder, there is no mention of how the writer used their leadership skills.
It's the same on the pirate deckhand's resume. It lists specific skills, like sword fighting, raiding, and treasure hunting, but nowhere does it say how the deckhand used those skills or why it matters to the captain or the rest of the crew.
This is precisely what recruiters say job seekers should avoid. Saying you possess leadership skills is fine, but unless you explain how you used them, the phrase is meaningless. You have to include an example of your leadership skills as a quantifiable result that made a positive impact on the team.
For example, in the second paragraph of the cover letter, you could say:
I have several years of experience working on ships, including time spent as a deckhand and in leadership roles. For example, I was once asked to lead a raid on a village that was rumored to have an extensive gold reserve. I selected a team of eight deckhands, created the raiding plan, and successfully led my crew in under the cover of darkness. Not only were none of my crewmates killed, captured, or seriously injured, we also recovered nearly 10,000 gold pieces.
The rewrite is a clear and compelling example of how you use your leadership skills and, more importantly, what the positive impact was for the entire crew.
>>MORE: How to Use the STAR Method for Interview Questions
What ChatGPT Got Really Wrong
Of course, part of the problem with the deckhand cover letter prompt is that it wasn't specific. We simply asked it to write a cover letter. That's a pretty generic ask, which is probably why we got a generic response.
For the next test, we asked ChatGPT to write a cover letter for a job opening at Forage and included some text from the posting that describes some of the experience our team is looking for. Here's the prompt:

And here's what ChatGPT generated: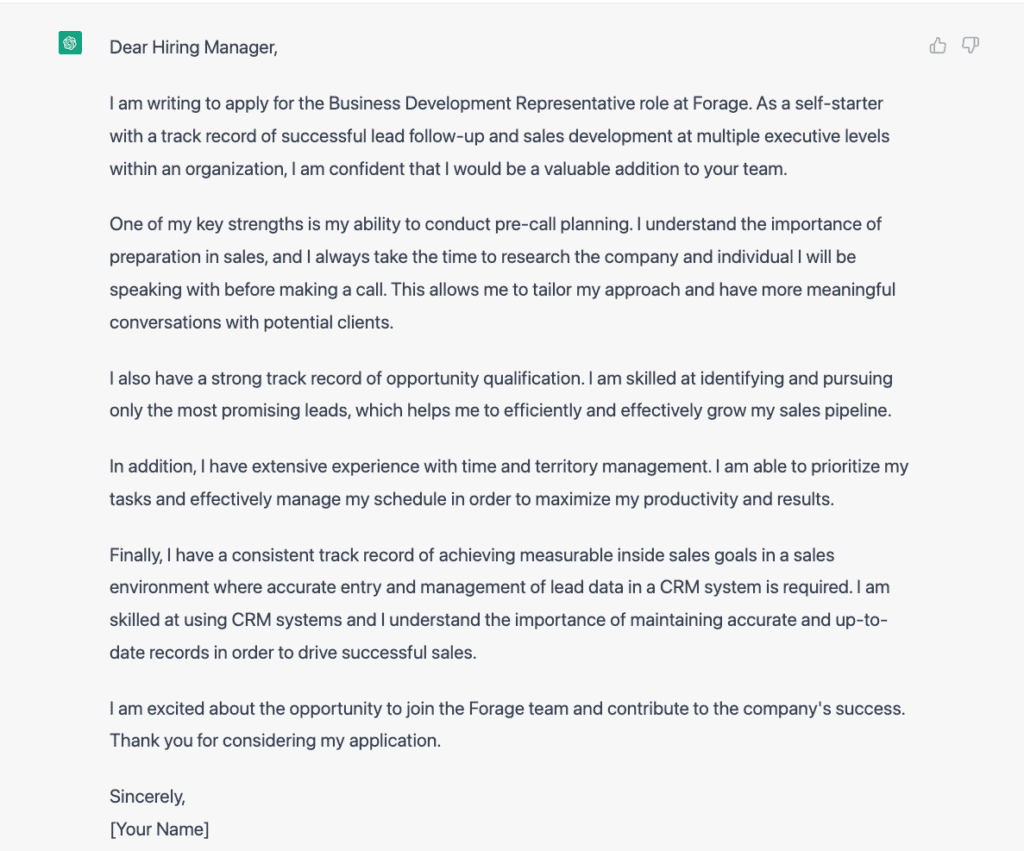 Once again, the cover letter is decent overall. However, it parroted back what we pasted in the input section without any explanation or context.
For example, the second paragraph talks about the writer's ability to conduct pre-call planning (a keyword from the job description). While ChatGPT attempts to explain why pre-call planning is important, the explanation isn't specific. It won't help this job applicant stand out from the others because it doesn't include any particulars about how this writer conducts pre-call planning.
It's a similar problem with the third and fourth paragraphs. The cover letter mentions specific skills from the posting but doesn't explain how the writer uses them or include an example of when they used their skills to "grow my sales pipeline."
Instead, you want to explain how you conduct pre-call planning or how you used your skills to grow your sales pipeline:
One of my key strengths is my ability to conduct pre-call planning. In addition to researching my prospects and gaining a deep understanding of the challenges they face, I research their competition, too. This helps me better personalize my pitch and position my company as a supportive solution to beating the competition.
>>MORE: Resume Keywords: What They Are and How to Use Them
The fifth paragraph also parrots keywords to the point it's practically plagiarizing the job posting: "I have a consistent track record of achieving measurable inside sales goals in a sales environment where accurate entry and management of lead data in a CRM system is required." Worse, the cover letter includes no examples of the measurable inside sales goals the writer achieved.
We found other problems with the resumes and cover letters Chat GPT generated.
First, ChatGPT doesn't seem to self-edit what it produces. For example, under the Awards section of the software engineer's resume, one award was formated with a dash, the other with a comma. While that may be the appropriate way to format these awards, it demonstrates that the program can be inconsistent.
Second, it appears that ChatGPT was making things up to fill in gaps from the broad prompts we provided. The cover letter for the accounting internship says that the writer is proficient in QuickBooks, even though we did not include that information in the prompt. It's possible that because the prompt was vague, ChatGPT pulled that information in as an example of what to include in your cover letter, but again, it is something to be aware of.
Should You Use ChatGPT for Your Cover Letter and Resume?
To be fair, this is a beta version, and ChatGPT says some results may be inaccurate. As we experimented, we found that the more specific the prompt, the more specific the output. When we asked ChatGPT to write a cover letter that included "the fact that I increased my high-confidence pipeline by 20% YOY," it produced a slightly better cover letter:
That said, while it's fun to ask ChatGPT to create a cover letter and resume so you can pursue the pirate life, should you use AI for your cover letter and resume?
As the results show, what ChatGPT produces is often generic and broad, which is unlikely to get you an interview. And copying and pasting parts of the job description isn't helpful because ChatGPT parrots back the keywords without explaining why or how you do those things.
That said, if you're having trouble getting started, are struggling with writer's block, or can't seem to find the right words, ChatGPT can be helpful in getting you a draft to work with. It generates clear outlines that give you an excellent starting point for creating application materials. But you can't rely on it to generate the perfect application. If you use ChatGPT to generate a cover letter or resume for you, make sure you personalize it with specific details about how you use your skills on the job and proofread it carefully to ensure everything is accurate before hitting submit.
Want to learn how to write a resume without AI? Consider enrolling in Forage's free Resume Writing Class.
Get noticed
Build a resume that hiring managers can't ignore with our Resume Writing Class.
Image credit: Canva
The post We Asked ChatGPT to Write Resumes and Cover Letters. Here's What It Got Right (and Wrong) appeared first on Forage.